Yesterday felt so weird. For the first time in months, I didn't have a daily word count. I've entered 'The Editing Zone.'
I tweaked and edited and rewrote the first 25 pages of Drums until I was sick of it. I'll give it one more going over late this week or early next, then it is off to the Genesis contest.
As for pages 26-305, those are going to be edited using a new tool. If you want to scare the hair right off your head as an author, write a first draft, then read: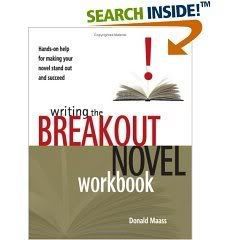 This book blows the mind. It covers every aspect of re-writing a novel that will supercede anything you've ever done before. The stakes will be higher, the characterization deeper, and the plot farther reaching and more complex than you ever imagined it could be. The problem is, if you read it, you see how you
could
apply it. Then, you have to actually
DO
it. Very scary territory. Doubts creep in. "What if I can't do this?" "What if I work on this for months and months, applying these techniques, and I still get rejected?" "What if I don't have the talent?" "What if I envision what needs to be done but fall short in the application?" "What if...?"
Then it's time for a little positive thinking. "Try. You might succeed." "You don't have to fix it all in a day. Take it one bite at a time. One chapter, or one character arc, or one plot thread." "You might as well try, because even if the ms doesn't reach the pinnacle you've aspired to, it will definitely be a better ms than when you started." "God will catch you if you leap out in faith."
One thing I discovered this week when thinking about deepening characteristics is: Give your character something that vexes him/her about himself/herself. Make the character self-aware of his flaws. Aren't we all aware of our flaws? Don't we strive to overcome them, only to blow it again and again? Aren't we often times our harshest critics? So with our characters. It will make them deeper, more easy to identify with, and it's a great chance to interject some humor into the situation.
Yesterday I printed off the ms of Drums of the North Star. Today I bought tab dividers for a looseleaf notebook. I'm going to divide the book into chapters, then insert a few blank pages for notes for each chapter. That way I can read the breakout book, take notes for where changes need to be made, easily find my chapters and what needs to go where, so when I edit, the notebook will have everything nice and tidy for me. At least this is the plan.
Plotting for Pam on Rye started today. I walked through the characters and some of the things that happen to them with Heather. She listened, gave input and laughed in the right places. It's a good start.
How do you approach editing, what resources and materials do you use, and how do you approach plotting a new work? Do you bounce ideas off someone? Do you use books, plot skeletons, snowflakes or dreams in the night?