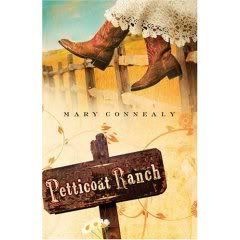 Sometimes I'm drawn to a book by the picture on the cover, sometimes because it is written by an author I love, and sometimes it's the title. Petticoat Ranch by Mary Connealy was one of those 'title' books.
Both Mary and I belong to the ACFW -
http://www.acfw.com/index.shtml
. I remember when the news that her book had sold to Barbour went through the email loop. I loved the title from the get-go and knew I would buy this book when it came out.
Sometimes writing doesn't live up to the picture on the cover, sometimes a favorite author doesn't deliver in the manner I've become accustomed to, and sometimes a title just doesn't pan out.
I can tell you this did NOT happen with Mary Connealy's Petticoat Ranch.
If you love romance, if you love to laugh, and if you've ever struggled to do the thing you know you should, you will love Petticoat Ranch. Mary uses humor, danger and characters who take honest looks into their hearts and motives to deliver a lively, fun story that illustrates how God can break through our stubborness and desire for revenge against those who hurt us.
Some things I loved about this book:
1) The culture clash when a 'man's man' tangles with a feisty woman and four little girls.
2) The use of humor from one scene to the next. Mary employs a terrific technique that draws you from one scene to the next, but ending one scene with a statement and opening the next with the exact opposite from another character's point of view. Several of these had me laughing out loud and reading the next scene even when I needed to lay the book aside and get some work done.
3) The resolution was terrific. The ending had a cool twist that I didn't see coming.
4) The powerful presence of God thoughout the book.
I encourage you to go out and get this book, or click on this link to order it from Amazon.
http://www.amazon.com/Petticoat-Ranch-Barbour-Value-Fiction/dp/1597896470/sr=8-1/qid=1172169317/ref=pd_bbs_sr_1/002-2114373-6312815?ie=UTF8&s=books
You won't be disappointed.
Tomorrow, I will post my first author interview on this blog. Mary Connealy has agreed to be my test subject. :) Yay, Mary!